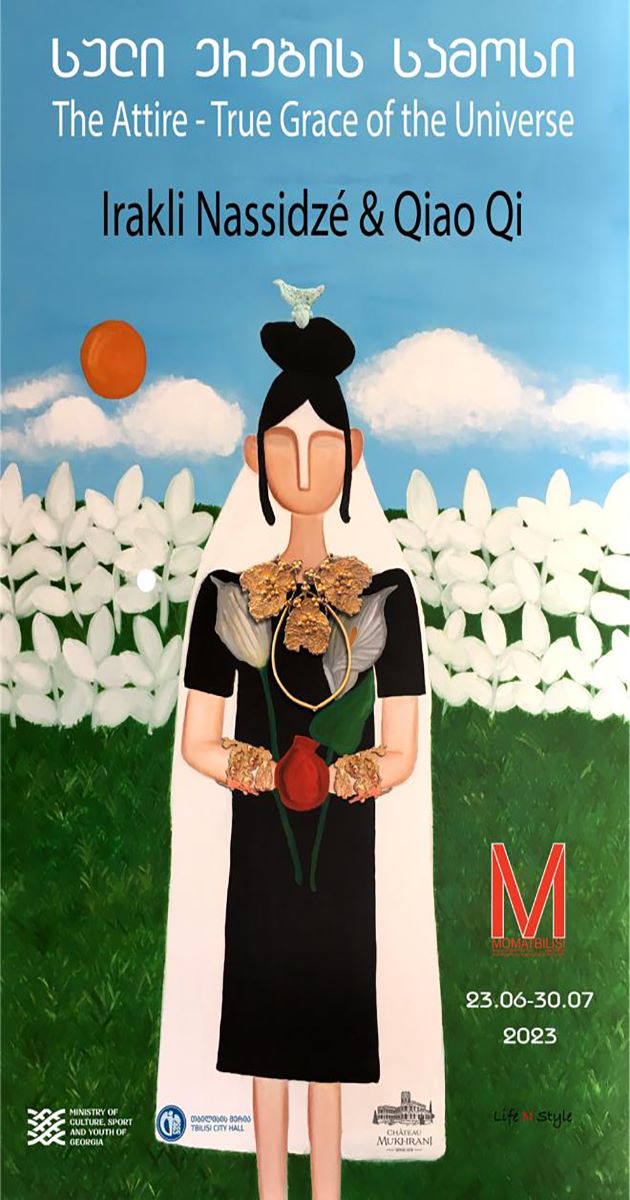 The Attire – True Grace of the Universe
When I look back , I see my life as a canvas engraved with all those delicate sensations that have been filling me with creative power since my childhood, I rejoice when I sense the world just like perfume, so light and so ethereal."


The exhibition – "Soul - Attire For Nations" represents a synthesis of the works of two great artists, Georgian designer Irkali Nasidze, living and working in France and his Chinese wife —Ciao Ci. The concept of the exhibition is a clear indication of the fact that art has no boundaries and is not confined to a specific nation solely. Despite the fact that there is a wide range of cultures, it is still associated with freedom since what really matters is the soul which is truly universal.
The exhibition reflects unimaginable capabilities and achievements of the authors. It talks about peculiarities of cultural differences forming common creative space as a synthesis of modern art and fashion industry. Irakli Nasidze offers a totally novel view to the admirers of his art and every single individual interested in purchasing his works.
The major part of the exhibition is represented with Ciao Ci's painting s, featuring steady and powerful lines that contribute a lot to the decorative aspect, forming creative space. Her paintings mostly represent figures of women, shrouded in mystery, willing to take a heed of every message the universe utters. They are imbued with childish and at the same time curious wisdom, conversing with us in a mesmerizing manner.
"Silent, enriched with spiritual wisdom, the characters created through fantasy as a trademark of the artist are the major source of my inspiration. It is a clear representation of peace, freedom and absolute trust." I. Nasidze
Attire painted by Irakli, accessories, jewelry created in bronze, furniture, sculpture, ceramic porcelain, a complete collection of museum art have been performed by the local craftsmen specifically for this exhibition and Georgian people in particular.
The project, represented in the Zurab Tsereteli Museum of Modern Art that will last for 2 months is once again a clear indication of Irakli's success, attained through long and fruitful work.

As the great artist Irakli puts: creative work synthesizes the Genuine and the Irrational.
The main goal of the artist is to beautify and refine the working process, the emotions and sensation he creates enable people to dream and travel in the world that is so magic.
Lux is a pure representation of beauty itself carried by people deep inside, illuminating from the inside and distributed amongst the surroundings. It is the attitude and vision that enables the author to maintain his individuality and interesting approach. The author's main goal is to expand his work, go beyond fashion, open his wings and through his talent move into the magic world of art.
Irakli is the man of the Sun whose immense love for Universe is clearly demonstrated in his every single work and the train of his thoughts.
Francois Caille
Art Critic
Supporting Organizations:
Ministry of Culture, Sports and Youth of Georgia
Tbilisi City Hall. Municipal Department of Culture, Education, Sport and Youth Affairs
Zurab Tsereteli Museum of Modern Art – MOMA Tbilisi
Chateau Mukhrani
Gallery Life N Style
Special Thanks:
Gela Kintsurashvili - The main artist, designer of the exhibition
Traditional Crafts Association
Sandro Gagua – Master of wood
'Lepert' - Decorative-Applied Art (metal sculptures) workshop
Robert Absanidze Ceramic workshop. Zugdidi
ATO WORKSHOP – Wood workshop. Tbilisi
Zuri Gogenia - Wood workshop. Zugdidi
Collaboration
Masha Chumburidze – Zanier - HOC Perfume founder
Sound – Stas Makovski, composer