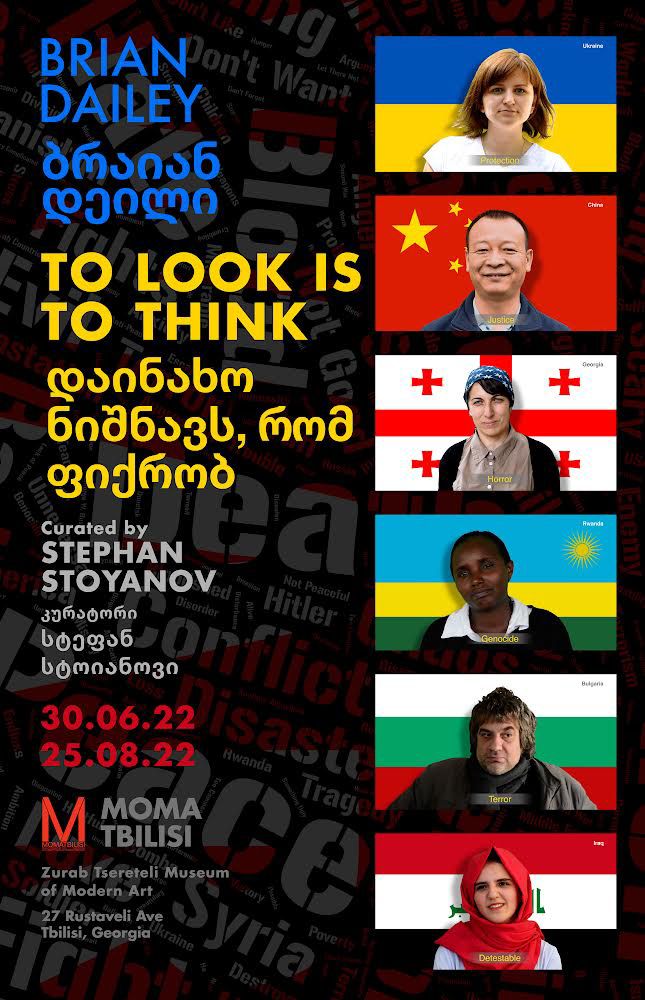 Brian Dailey To Look is To Think Created by Stephan Stoyanov
Art Agency is proud to present Brian Dailey's oeuvre for the first time in Georgia. On June 30th, at 19:00 at Zurab Tsereteli Museum of Modern Art will be opened Exhibition -TO LOOK IS TO THINK.
The Exhibition will last until 25th of August.
Curated by: Stephan Stoyanov

Brian Dailey's work for the past 20 years has focused on the social, political, and cultural issues of our times. From cosmic imagery to global engagement, conceptual works to visual riddles, military-industrial tableaux to socio-video collage, his art seduces the viewer by its beauty and only then he/she is confronted with the serious issues of our times. In the artist's own words, "My art is about stories. I am chronicler of people's stories, what they say about themselves, the world, and life. I observe, I listen, and then I create."

This exhibition of Brian Dailey's work brings together several different series from 2010 to the present. Dailey draws upon his singular and quite unusual background to develop conceptual works that include portraiture, performance, video and words; while conveying an overarching theme of how language in all its nuanced forms becomes critical to communication.

The exhibition traces his personal research starting from his seminal work, titled 'America in Color' through the autobiographical series '14 Stations at the Crossroads'. Amidst the cacophony of the bitterly polarized political environment in the United States, the artist embarked on a multifaceted two-year endeavor of photographic portraiture. The project addresses questions about democracy, diversity, identity, and stereotypes. '14 Stations at the Crossroads' is a narrative of the artist's journey and a portrayal of the decisions that helped define his identity and character.

The central focus of this exhibition is the series WORDS. It is the artist's seven-year investigation into the impact of globalization and its effect on key human structures of language, society, culture, and environment. WORDS MULTIMEDIA is a time-based art and engages the viewers in present day issues while invoking a communal sense among global citizens. In WORDS on WORDS, distinct single-word responses are layered in an immeasurable array of colors enhanced by the lenticular 3D effect. Interjecting his voice in a collaborative manner with the project's participants, Dailey creates iconoclastic yet playful statements reminiscent of Dada and Surrealist word play. Dailey's project, which took him to 120 countries and all seven continents, seeks to discover the humanity at the heart of a baker's dozen of crucial social concepts: Peace, War, Love, Environment, Freedom, Religion, Democracy, Government, Happiness, Socialism, Capitalism, Future, and United States.
The finale of this exhibition is the popular video Jikai which was projected for a month on all the screens of Times Square, NYC in 2013. Like the moth drawn to the light in this video's hypnotic dance with death, we are all irresistibly attracted to danger despite knowing its potential for negative consequences. Making an allusion to Shakespeare's line in The Merchant of Venice, the moth in Jikai is a metaphor for human self-destruction and its fluttering around a light bulb is a meditation on societal disintegration.

Biography:
Perhaps no word better characterizes Brian Dailey (b. 1951) than polytropos, the first adjective Homer applies to Odysseus in The Odyssey. Translated from the Greek as "well traveled," "much wandering," and, in a more metaphorical sense, as "the man of many twists and turns," polytropos suitably describes Dailey's life journey and its many peregrinations. As a student at Otis Art Institute (MFA, 1975) and in his ensuing art career in Los Angeles, Dailey participated in the pioneering creative experimentation defining the prolific artistic milieu in California in this era. His early career launched him on a path that—before bringing him full circle back to his roots as an artist—took him through a twenty-year interlude working on arms control and international security. These unusual experiences, which he approached with the same curiosity that has driven his current work, provide a fertile source of inspiration in his idiosyncratic and individualistic creative practice.

Based in the Washington DC metropolitan area and Carmel, California, Dailey is an artist whose work in a range of media, including photography, film, installations, and painting, draws on his multifaceted life experiences. His conceptual and performance based art expands the parameters of the mediums in which he works, defying easy categorization. Engaging with the social, political, and cultural issues of our times, his work is informed by his unusual background and unconventional evolution as an artist.