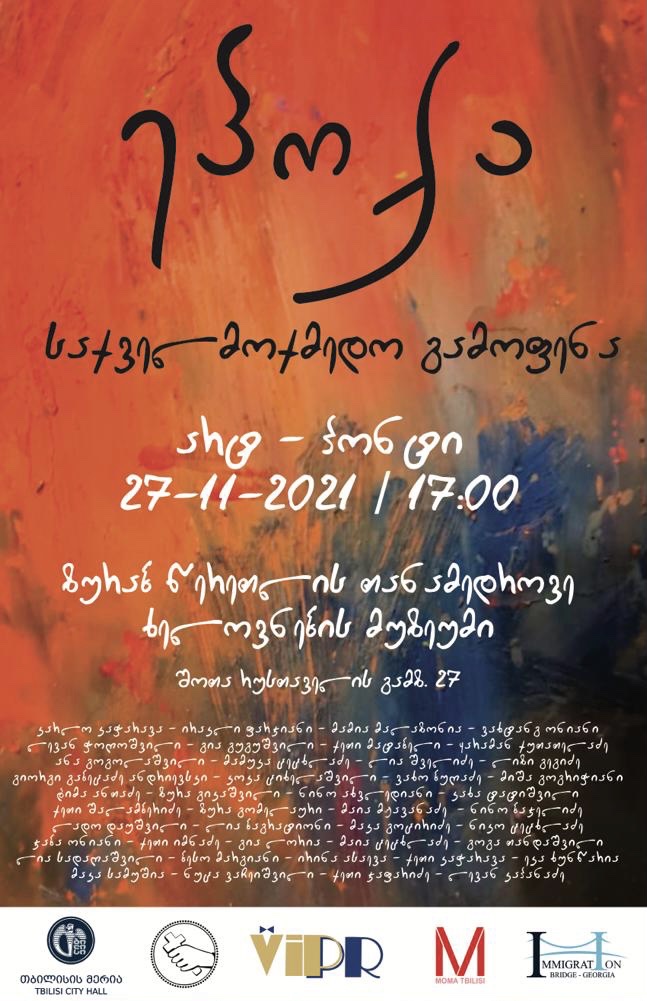 Charity Exhibition "Epoch"
November 27th at 17:00, Zurab Tsereteli Museum of Modern Art will host a charity Exhibition "Epoch".

In 1993, Nino Bajelidze, Tamriko Sarajishvili and Nana Gvaramia organized a charity exhibition of young artists during a difficult and responsible period for our country. Almost thirty years later, a group of Art Pont curators announced a new charity exhibition, Epoch. The quantitative range of artists has grown and been filled with young talented artists.
It is our exhibition that shows that fine art is a deeply social phenomenon among other fields of art, which has the ability to offer the public an original vision, new forms of world perception and cognition, invite us into the world of ideas, confuse us in anticipation of news and do good deeds. Has the definition of "creation of goodness" or doing good.


Creative group: Nino Bajelidze, Maia Mzhavanadze, Nikora Gelekva, Irina Tsertsvadze, Jaba Oniani, Nino Akhvlediani, Natia Akhvlediani.

Participating Artists:
Carlo Kacharava - Irakli Farjiani - Mamia Malazonia - Vakhtang Oniani
Levan Choghoshvili - Gia Gugushvili - Keti Matabeli - Karaman Kutateladze
Ana Gogolashvili - Mamuka Tsetskhladze - Lia Shvelidze - Koka Tsikhelashvili
Vakho Bugadze - Misha Gogrichiani - Dima Antadze - Zura Gikashvili
Nino Akhvlediani - Kakha Tatishvili - Keti Shalamberidze - Zura Gomelauri
Maia Mzhavanadze - Nino Bajelidze - Maka Gotsiridze - Niko Tsetskhladze
Jaba Oniani - Keti Imnadze - Gia Loria - Maia Tsetskhladze - Goga Tandashvili
Lia Sadaghashvili - Beso Margiani - Irina Asaeva - Keti Kacharava
Giorgi Gabetsadze Andrievski - Lizi Gegidze - Lado Daushvili
Lia Bagrationi - Nutsa Vacheishvili - Maka Samushia - Eka Khuntsaria.